Inauguration of rabbi meltzer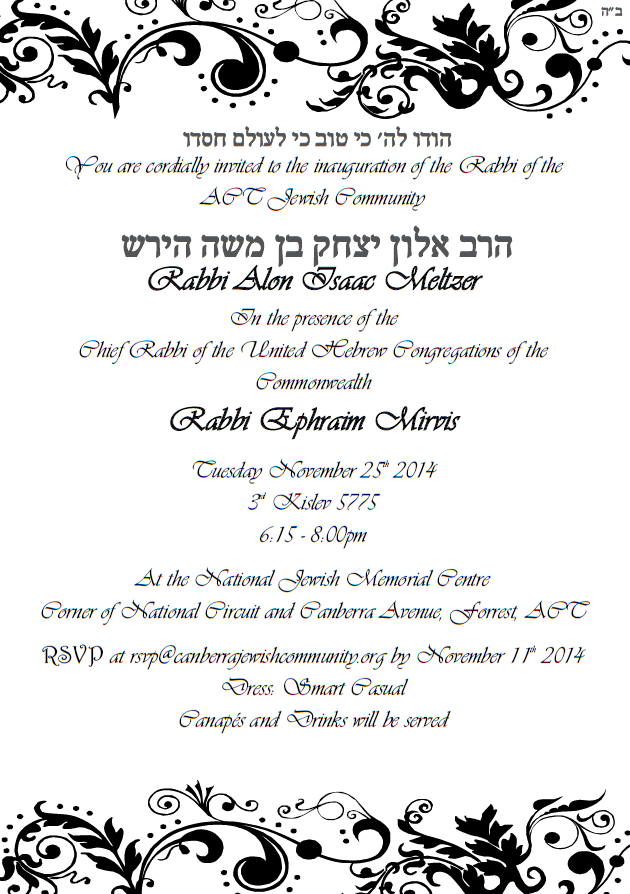 We look forward to welcoming you to our community in November for the inauguration of Rabbi Alon Meltzer, in the presence of Rabbi Ephraim Mirvis the Chief Rabbi of the United Hebrew Congregations of the Commonwealth.
To mark this historic event we will be commissioning a commemorative booklet that will include notes of congratulations from various dignitaries and officials from around the country.
We would like YOU to be involved as well; please take a moment to consider signing your name to the at least one of the following pages at 'Chai' Dollars ($18) per page – a fantastic opportunity to support the community as well as record your name in annals of history.
Congratulations to the President and the Board of the ACT Jewish Community on this historic appointment

Congratulations to Rabbi and Rebbetzin Meltzer on the appointment as Rabbi of the ACT Jewish Community

Hatzlacha Rabbah, much success to the entire ACT Jewish Community in the future

Thank you to all the volunteers, past and present, who have ensured that the ACT Jewish Community is the strong and vibrant community it is today

In memory of the Founding Families of the ACT Jewish Community whose impact is still being felt today
Please consider giving to more than one page in lieu of a charge to the event.
You must RSVP in order to be on the list for security purposes - please note that while we love the children of our community as this is a formal event we would request that only those who can sit through the proceedings join us - if you would need us to organise a baby sitter on site, please email a request and we will try and facilitate.
As part of the commemorative booklet we are soliciting business ads which can be tax exempt, if you or your company would like to purchase an ad please be in touch with inauguration@canberrajewishcommunity.org
We will be in touch with you in order to process the donation
Sat, 20 January 2018 4 Shevat 5778